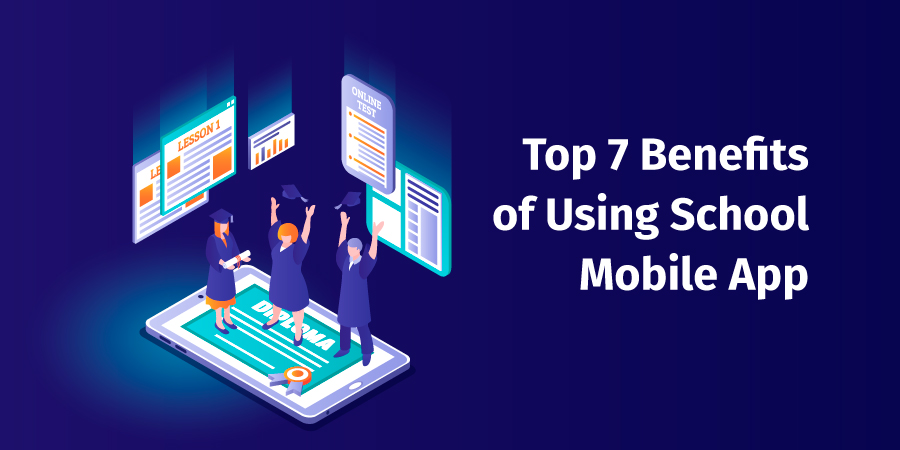 Top 7 Benefits of Using School Mobile App
Obinna Osigwe | February 1, 2023 | 0 | Application
Introduction
School mobile apps, that provide an interface school management software, can be a beneficial resource for students as it grants them access to crucial information and content. The app would enable the students to review and manage their schedules, assignments, and grades on their mobile devices, which can aid in organizing and planning their daily activities.
Also, a school mobile app can improve communication between students, teachers, and parents. For example, teachers can use the app to send announcements and updates to students and parents. Likewise students and parents can use the app to contact teachers and school administrators whenever required. It will make communication easier and keep everyone connected.
Paper-based communications always carry the risk of falling into the wrong hands.  On the other hand, we choose a reputed school management software such as Camu can enhance security by allowing access to information and features only to authorized users. The app can help protect sensitive data and ensure that only those who need access can see it.
Additional benefits of using a School Mobile App
Improved Productivity: A school management app can help streamline various school processes and reduce the workload of teachers and administrators. For example, the app can help plan meetings, keep track of attendance, and maintain student records. It can save time and resources and help teachers and staff focus on the necessary tasks.
24/7 Access: Students and parents can always have access to the resources they need thanks to

a

the school information management system. This 24/7 access can be extremely helpful for students who need to review material or finish homework outside school hours.
Global Access: School mobile apps can provide students and teachers access to educational materials and resources from anywhere with an internet connection. Students who might not have access to a computer or who might need to review content outside of class may find it to be of particular help.
Enhanced Learner Engagement: This program can integrate modern learning methods such as gamification, adaptive learning, and personalized learning, making the learning experience for students more dynamic and engaging.
Effective Parent-Student-Teacher Communication System: The app offers a platform for teachers, students, and parents to communicate with one another, which can improve communication and strengthen relationships among them.
Tracking Progress: The app allows tracking of assignments and projects, ensuring that students stay on track and make progress.
Real-time Updates: The school management system software can provide updates on relevant news and events happening within the school or local community. This will help keep students and parents informed and engaged.
Conclusion
A mobile app connected to school management software can greatly benefit students, teachers, and parents. It can provide access to the necessary information and resources, improve communication, increase security, and support modern learning methods.
Camu's school management software enables  students to  stay organized, stay on top of their assignments, and maintain connections with their school community. Teachers and administrators can save time and resources, and parents can stay informed about their child's progress and be more involved in their education through the student information system. Ultimately, the use of a school management app can enhance the educational experience for all parties involved.
Related Posts