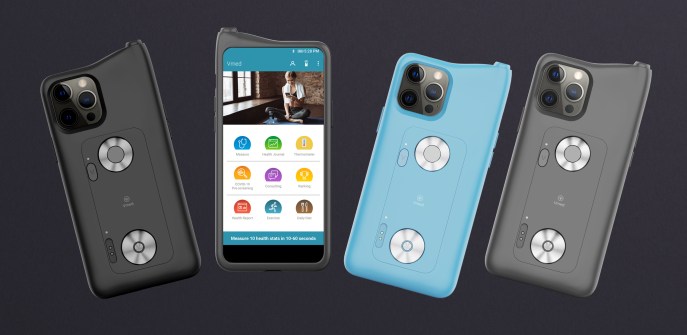 Carry a thermometer, digital blood pressure reader and more, anywhere you go, all on your smartphone! It's Vmed!
admin | March 12, 2021 | 0 | Technology
It's an inconvenience to carry vital instruments on your daily outings or have them all handy, all the time. Now, just about anybody anywhere can have all their vital instruments in one place – on a smartphone. No need to sit in a waiting room! Monitor ten vitals in less than a minute by downloading Vmed to your phone.
Manage critical health conditions and help prevent complications with Vmed, which stores weeks to years of vital data and enables remote sharing with healthcare professionals.
Using Vmed makes it easy to keep track of vitals and keep your doctor posted!
The Vmed device is the first of its kind to read it's user's vitals throughout the day at any time in less than one minute! You can now measure your vitals from anywhere and provide your healthcare and wellness providers with your data over days, weeks, months or even years. 
It is very easy to use!

The app is available at the Apple Store and Google Play Store!

The Vmed device can be used to check the temperature of family members, employees, or other groups as needed during a Covid-19 panic!

Your data can be stored for a doctor's analysis!
Almost everyone uses a smartphone. Vmed will work on a smartphone to monitor and provide health data for weeks, months, or years. Send information to your health practitioner and possibly prevent future health issue complications. 
Most people 'feel fine' just prior to major health crises, and without data on one's vital signs, there's no way to know if serious health issues are on the horizon. Vmed reads vitals remotely and instantly. Monitor ten (not just three) vitals in less than a minute, from any location. 
This unique device captures data more accurately and efficiently than other, less effective products on the market that only measure a few vitals.
In a time when wellbeing is spiraling downward and doctors' offices seem more forbidding than ever, it's important to keep track of vitals everyday, any time of day. Vitals are monitored by simply using Vmed on your smartphone.
Related Posts