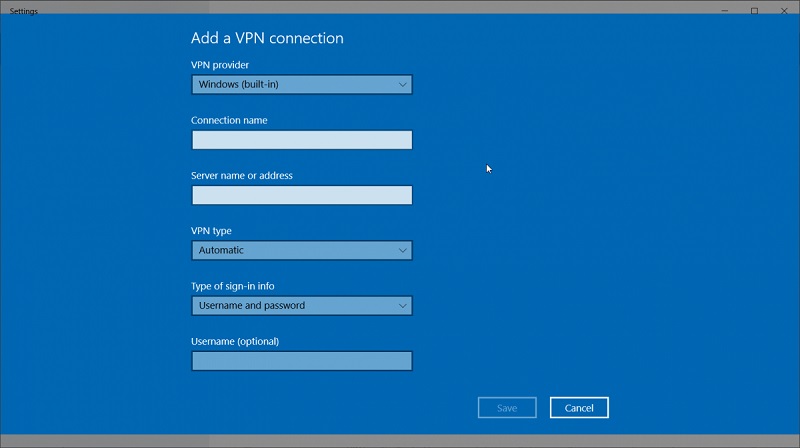 How to Set Up VPN at Windows 10
admin | December 18, 2020 | 0 | Technology
In today's world, a VPN is a necessary tool, whether for work or at home. A Virtual Private Network protects your devices from malicious actors. The VPN creates a safe tunnel between your computer and the internet, allowing you to browse safely and anonymously. If you work on the go and would like to connect to a public Wi-Fi such as an airport lounge or coffee shop, you need a VPN to protect you from hackers who lurk in unsecured networks.
A VPN hides your real location by allocating you virtual server locations. If anyone is trying to track you, they can only see the VPN provider's IP address instead of yours. You can get VPN for USA while in Europe, or log into a server in the UK while in the US, and this way, you can avoid Geoblocks that prevent you from accessing specific sites.
How to Set Up
 Most VPNs are compatible with most operating systems, from iOS to Windows. Here is a step-by-step manual for setting up a VPN. This method is faster as most Windows 10 PCs have an in-built VPN system. This saves you the trouble of manually configuring your computer. All you need to do is click, and the wizard will do its magic and you are done in a few minutes, maximum fifteen to twenty minutes.
You will first need to choose which VPN service provider you will use. There are many VPN services to choose from, and you need to select one which is fast, has strict no-log policies and has many servers across various regions. The more the servers, the more untraceable online you are, and the faster the connection.
During the setup, Windows will prompt you to select a protocol from a given list. The chosen protocol will determine how strong your encryption will be VPNs use multiple protocols, with the most common beingIKEv2/IPSec, L2TP/IPSec, PPTP, OpenVPN and SSTP.
The VPN you select will use one of these, so during setup, you will choose the protocol your chosen provider uses, of which the VPN will let you know. If possible, select a service using OpenVPN, which is a newer technology and is renowned for speed and reliability. IKEv2/IPSec comes in a second close as it also uses the latest technology. If you can, avoid PPTP and L2TP/IPSec, which are for much older systems.
Create a VPN Profile and Connect
On your desktop, right-click on the Start button > Settings.
In the new Window, click on Network and Internet> VPN from the options on the right.
Click on Add a VPN Connection, which directs you to configuration options.
Click on VPN Provider and in the dropdown menu, select Windows (built-in)
In Connection Name, type your preferred connection name. Use a name you will quickly recognize, such as MY VPN or JOE'S VPN.
In Server Name, enter the VPN server address.
On VPN Type, select the type of VPN connection you want (OpenVPN, etc., as mentioned above)
On Type of sign-in info, select type of sign-in credentials you want to use, i.e., one-time password, username and password, certificate, etc.
Save
To edit the connection details, or for other settings like a proxy, select the VPN connection, then Advanced Options.
Connect to a VPN
With your VPN profile, you can now ready for connection.
On the taskbar's far-right, select Network 
Select your preferred VPN connection, then:
Select Connect if the connect button appears under the VPN connection
Select Connect if the VPN segment in Settings is displayed
If prompted, enter sign-in details such as username and password
When you have been connected, the name connected will appear under the VPN connection name. To confirm if you are connected while you are on your PC, select Network on the taskbar's far-right and check if it reads Connected.
Conclusion
When connected to a VPN, you have more freedom to browse the web without fear of hacking or being traced. Other than hackers, governments of the day also track individuals, and if you want to keep a low profile, a VPN is a perfect tool.
Keep away from free VPN services. Nothing is truly free, and they will sell your information to the highest third-party bidder. Look for a decent VPN service provider who keeps no logs and has decent speeds. The better the VPN service, the higher the pricing. Price should never be a priority, but your security should be.
Related Posts