HONOR is the most popular sub-brand of HUAWEI. HONOR has the  complete performance and the ideal price for the common people. We will talk about the HONOR MagicBook Pro laptop today. It is an excellent product. The HONOR MagicBook Pro price is very affordable. And it has no less function and color value than other big-name laptops with the same price.
Since the laptop the HONOR MagicBook Pro laptop has released, the 16.1-inch narrow frame became popular. The huge screen allows everyone to have a better viewing effect when watching movies. MagicBook Pro has a large screen of 16.1 inches. But it has the same size as the traditional 15.6-inch laptop. In addition, the fuselage with a thickness of 16.9 mm and a weight of only 1.79 Kg is added. This is a rapid development in ultra-thin books. It means that although we have a larger screen. However, it will not increase the weight of the fuselage in any way and hinder our daily travel. For those who like large screens and light books. This is a good choice.
As a laptop, the most important thing is the graphics card. This HONOR MagicBook Pro laptop uses the new AMD Ryzen 5 4600H processor. With the improvement of performance, there is no pressure to play games.
This laptop uses a high-performance dual fan system. This means that there is no need to worry about the fever of laptops when using them. Adequate heat dissipation system is a important thing for laptops.
The speakers of HONOR MagicBook Pro laptops are not set on both sides of the body like many laptops. But next to the C-side keyboard. The advantage of this is that. Make the speaker more effective. Produces three-dimensional high-quality sound. For those who like to listen to songs on laptops. This design is very good.
The laptop is equipped with fingerprint identification. The power key is the place where fingerprints are identified. With this fingerprint identification, you can free everyone's hands to enter the password. The computer will unlock automatically with a light release.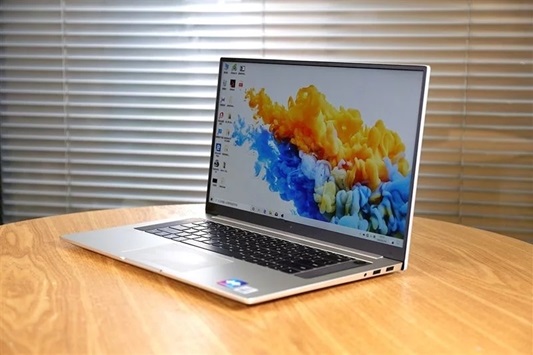 The HONOR MagicBook Pro laptop has excellent endurance. It can last for more than 11 hours for a long time. MagicBook Pro has built-in 65W fast charger. It only need to be charged for about half an hour. Laptops can get about 50% of the electricity. This is for small partners who work outside. It is very practical.
MagicBook Pro is configured with multiple USB interfaces. The camera uses a pop-up camera. Eject when needed. In this way, people do not need to worry about wearing the camera by accident during normal use. Causing damage to the camera. And this setting is very beautiful.
MagicBook Pro comes with ultra-high speed SSD storage drives. The reading speed is fast. It has 512 GB of solid-state drives. Can easily handle many complicated affairs. No matter in performance or appearance. This HONOR MagicBook Pro is excellent.